When you get involved with freight brokering, sooner or later — and rather sooner — you will hear the term "days to pay." What is it, and how does it relate to freight brokering? Well, "days to pay" is a term used to determine how many days it takes to receive a payment from a company, starting from the day invoices are sent to them. 
Most brokers work on a "net 30" term, meaning they promise to pay motor carriers within 30 days. Once a motor carrier makes a delivery and sends all the documents to a freight broker, that freight broker makes a promise to make a payment within a 30-day period. 
Even so, there might be a net 30 outline in the broker-carrier agreement, which we are going to discuss in another post. That doesn't mean that a freight broker will be paying within this timeframe. Some freight brokers may pay sooner, and some may take longer, depending on their financial situation and policies.
Why should you, as a freight broker, care about a "days to pay" number? 
A "days to pay" number basically shows your financial stability and credibility. If you have the money, you will pay motor carriers fast, which is what they want. They want to receive their payments as soon as possible.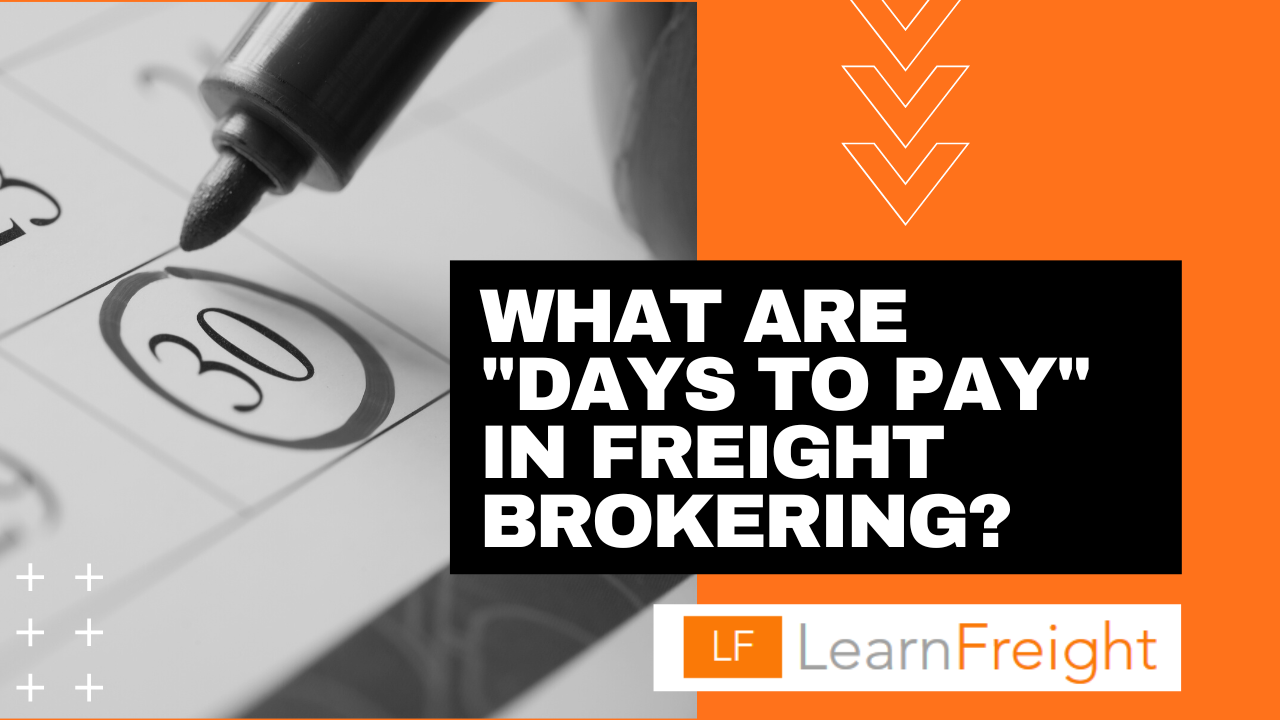 Now you might be asking why people are using freight forwarders versus freight brokers. As we discuss in our freight broker course, there are many different reasons, but as discussed in our freight broker course, some of the examples can be a consolidation of freight, where a freight forwarder is going to pick up different pieces of cargo, such as smaller partial loads, from different shippers. Then they're going to consolidate them into one larger shipment at their warehouse and hire a truck to deliver this shipment to a final destination. By doing so, they can save money. The same may be done in reverse, where a large shipment will arrive at freight forwarder's warehouse and then will be broken down into smaller shipments to be delivered by smaller trucks to their final destination.  
​Another reason can be warehousing. For example, a shipper needs their product to go out of their production facility, but the receiver is not ready to receive it until, let's say, two weeks later. Again, a freight forwarder may pick up this cargo, store it in their warehouse, and then ship it out to the destination two weeks later. 
​Freight forwarders offer a bit more complex solutions to their clients. But the main difference is that a freight broker does not take possession of the freight, while a freight forwarder does.
Are you thinking about becoming a Freight Broker or a Freight Agent? LearnFreight offers Online Freight Brokering Training Courses which are suitable for people not familiar with transportation industry. Learn more about our training by visiting Training Details page or choose your course here.